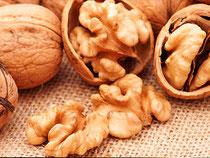 Walnuts have multiple advantages for our health.
Discover them below.
---
Neural skills.
Add walnuts to a healthy diet improves the performance of tasks that require motor and behavioral skills elderly , because it enhances the connection between neurons .
Healthy heart.
Following a Mediterranean diet enriched with 30 grams of nuts, at least half of them nuts, reduced by 30 % the risk of cardiovascular diseases , and specifically decreases by 49 % the chance of suffering a stroke or stroke .
Better mood and less belly.
Reduces hunger , it reduces the concentration of inflammation-related substances , fights abdominal obesity and hypertension , improves heart health and puts us in a good mood .